🛣 Keep going... 🏃‍♂️
Lobo Library #18 - 10/26/20 - a 4 min 01 second read ahead...
Written with ❤️ from NYC.

🗞TL;DR: I'm still here. I'm building stuff. The hustle continues…
Happy Monday Fam,
A quick update on the personal front - my girlfriend and I officially moved in together 🏠. I am happy.

(I do feel a bit weird talking about personal stuff here. I'm unlikely to write on here if I'm ever sad…Is that weird? Moving on…)
It was a crazy busy weekend. I spent nearly the entire time working, doing another OnDeck "Build Weekend" 3-day hackathon. I have participated in 3 other Build Weekends and was on the winning team in each one 🏆. This time, I worked on two separate teams with very different ideas.
The first was a streamlined approach to buying used construction equipment. It turns out if you want to buy construction equipment today, you need to go to a live auction, use a broker, or go to a very 1995-looking website where you can see available equipment. Whatever you choose, the process is going to involve at 1-2 dozen phone calls, as you negotiate price, inspection, financing, logistics, and many other time-consuming and irritating problems. It's weird nobody has solved this problem because it represents $100B each year (yep that's Billion with a B). Our proposed solution was called "GRRR." Why? Cars go VROOM, but heavy machinery goes GRRR 😂.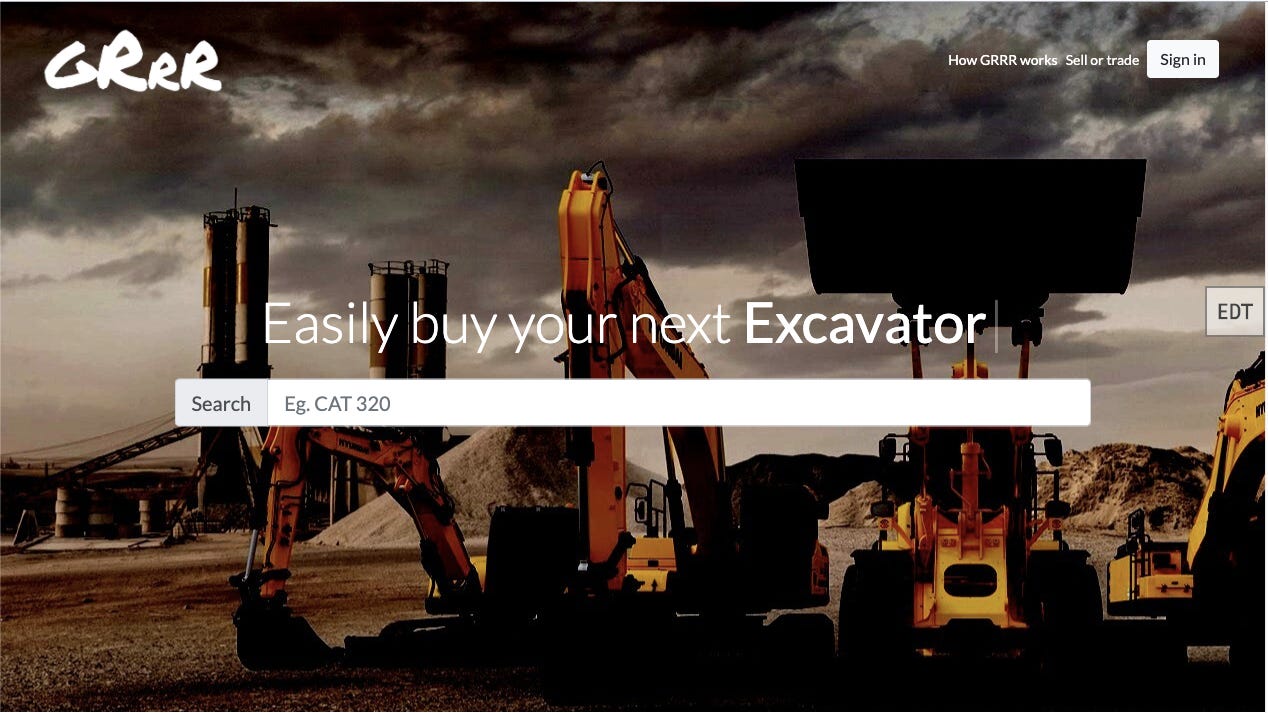 The second project I worked on was an AI-powered virtual receptionist for small businesses. Despite the widespread adoption of Yelp and Google Maps, where information on businesses is plentiful, many folks (myself included) will still call to get their questions answered. "Are you dog friendly?" "Do you have keto options?" "Do you have outdoor seating?" It turns out 65% of these phone calls don't get answered. And there are Billons of these phone calls happening each month (again, Billion with a B). Our proposed solution, Goodcall, can be set up in a couple of minutes, and can immediately save businesses time and money.
While I didn't actually build the AI portion of the solution, I did flex my advanced NoCode skills and build the app (with the help of an amazing designer).
Luckily enough, our team won! We got the 'Best Startup Award' and 'Crowd Favorite' 🏆.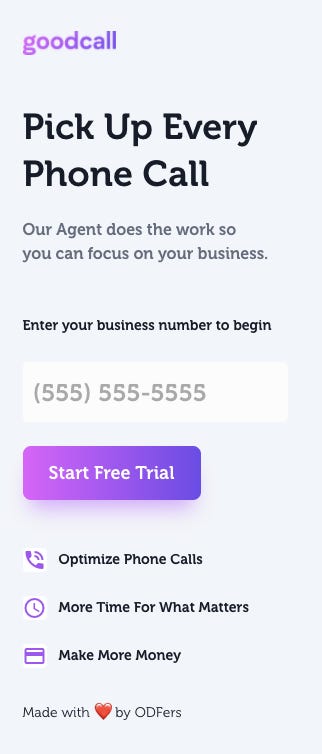 I hope that one of these days a project will take off. Either way, I have to keep going.
---
🚀 Start-Update
What I did:
🚪 Stopped working on Extendo, the no-code tool to build Chrome Extensions. After a month and a half of research (50 customer interviews), it turns out that this was a very lukewarm problem for users. That being said, I'm way more bullish on Chrome Extensions themselves and think there are many opportunities for developer tools there.

🤖 Finished an intro and advanced course on Bubble. Bubble is on the frontier of NoCode tools and it allows you to build fully functional apps, without code. It's actually crazy. I feel like I have superpowers. That being said it's definitely still a very complicated thing to learn.
What I'm working on:
👨‍🏫 Teaching an Intro to NoCode course based on my (small) success running OperatorMVP. Here's my first pitch to the OnDeck community where I've been a vocal evangelist of NoCode:

📨 Feedstack: My friend, Ben, flagged an opportunity for me which I'm checking out to help newsletter writers (and maybe other content creators someday).

If you're a newsletter writer (like me!) you may want to get your readers/audience to give you feedback. To do that, you might create a google form and then link the responses in your newsletter like this:

This involves creating a Google form and some manual work which takes about 3-5 mins any time you do it. This method also makes it a bit challenging to do any sort of analytics too.

I spent last weekend putting together a product that can create "1-click surveys" for newsletter writers and got great feedback from a famous writer/publisher who is excited to use it 🤩. I'll share more details as I make more progress!
What I need help with:
🤓 Intro to NoCode: If you are interested in learning how to build a prototype/product, let me know! I'll hook you up with a massive discount on the course. If you aren't interested but you know someone who is, refer them and I'll give you a bonus as a thank you too 💰.

📨 Feedstack: Do you write a newsletter or produce any content where you course use an easy 1-click survey to get feedback from your audience? Or do you ever send out short surveys at all? Either way, let me know if you or someone you know might be interested in trying out the product when it's ready.
---
Ain't no party like an Arty party: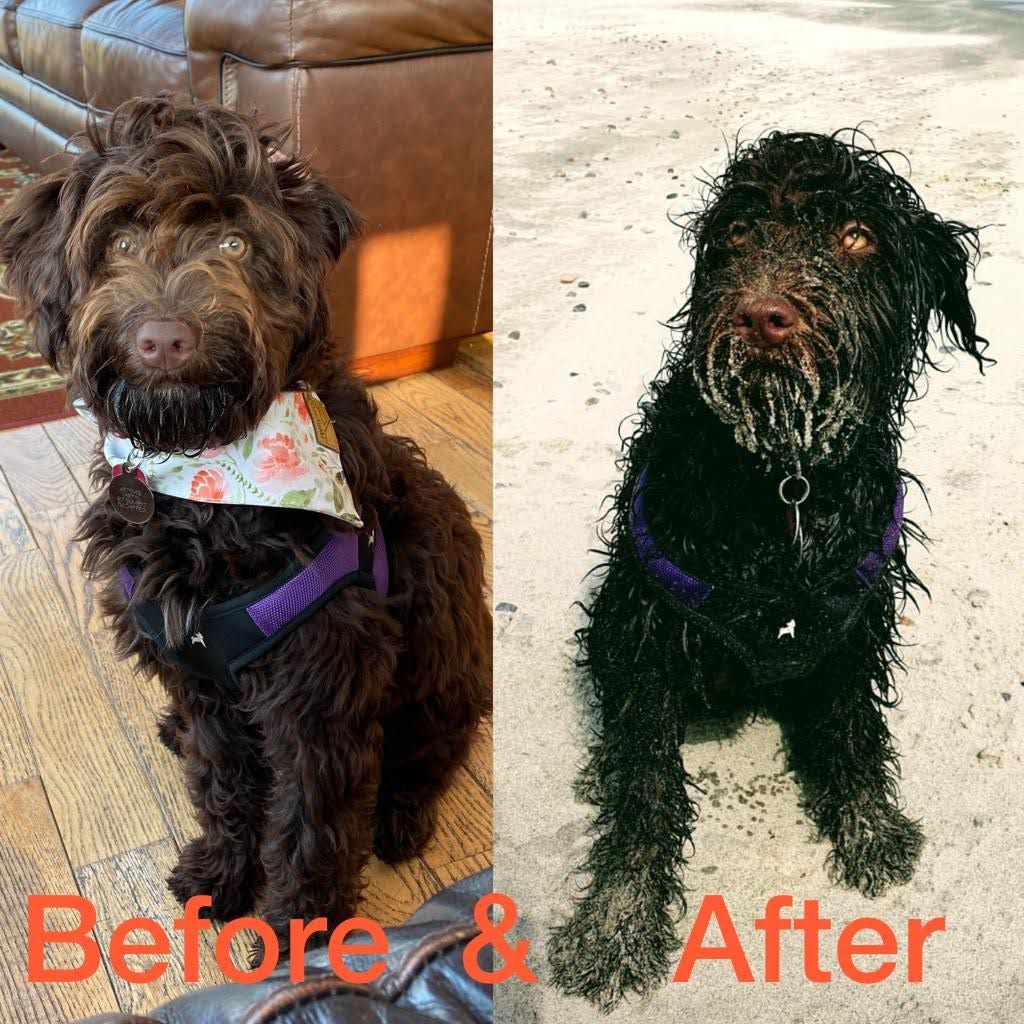 Arty's trip to the beach.
---
🏁Wow - you made it to the bottom. I hope you enjoyed it. Reach out with feedback or to just say hi!🏁

I love you,

Lobo
---