🏅And the Oscar goes to...❓
Lobo Library #8 - 2/10/20 - a 4 min 2 second read ahead...which took me 5 hrs to write...
🗞TL;DR: This week we learn about Internet Trends & Challenges, Debate, and Legal Immigration.
Happy Monday fam. Okay, I didn't actually watch the Oscars, but I posted the highlights below, thanks to Google.
Best Picture: Parasite 😍

Best Actor: Joaquin Phoenix, Joker 😍

Best Actress: Renée Zellweger, Judy

Documentary Feature: American Factory
Parasite, which I watched a couple of weeks ago, is the first foreign-language film to win Best Picture. I hope this inspires even more foreign filmmakers. I guessing Parasite's blow-out performance (6 nominations, and 4 Oscars) has something to do with Americans' recent exposure to more foreign-film content in general, thanks to the growth of Netflix and other streaming services. We'll get into that shortly…

Now we've got that out of the way, let's jump right in.
---
🤬 "Software ate the world, so all the world's problems get expressed in software"
Benedict Evans, a Partner at Andreessen Horowitz, just released his annual presentation (128 pages) on the macro and strategic trends in the tech industry. This year's presentation focuses on regulation in the tech industry and why it's so challenging. I recommend flipping through the second half (on regulation, pp. 66-119) - I definitely feel like I am at least aware of the issues. Here are a few of my key takeaways (you can find my full notes here).
Internet Trends
Globally, nearly adults are connected (91% w/ mobile, 73% w/ smartphones)

TV/Cable Subscriptions are down 20%; teen viewership is 50% down from 2016

Today, more than 40% of heterosexual couples meet their partner online ( ~0% in 1995; 20% in 2005)
Regulation of Tech Companies & Why it is Challenging
Google and Facebook have ridiculous market dominance in Search (~90%), Social (~70%), Online Ads (~70%), Overall Ads (~40%)

While it's easy to say "break them up," the issues at hand are complex. "Which problem are you trying to fix? Few of the issues that make people worry about 'big tech' relate to anti-trust" AND there are tradeoffs…

"There's bad stuff on your platform – take it down"

"What does 'take down' mean? 'Social networks' are a mix of many publishing forms with different speech and distribution models"

"What does 'bad' mean? It's not just 'China' - liberal democracies have widely varying attitudes to free speech"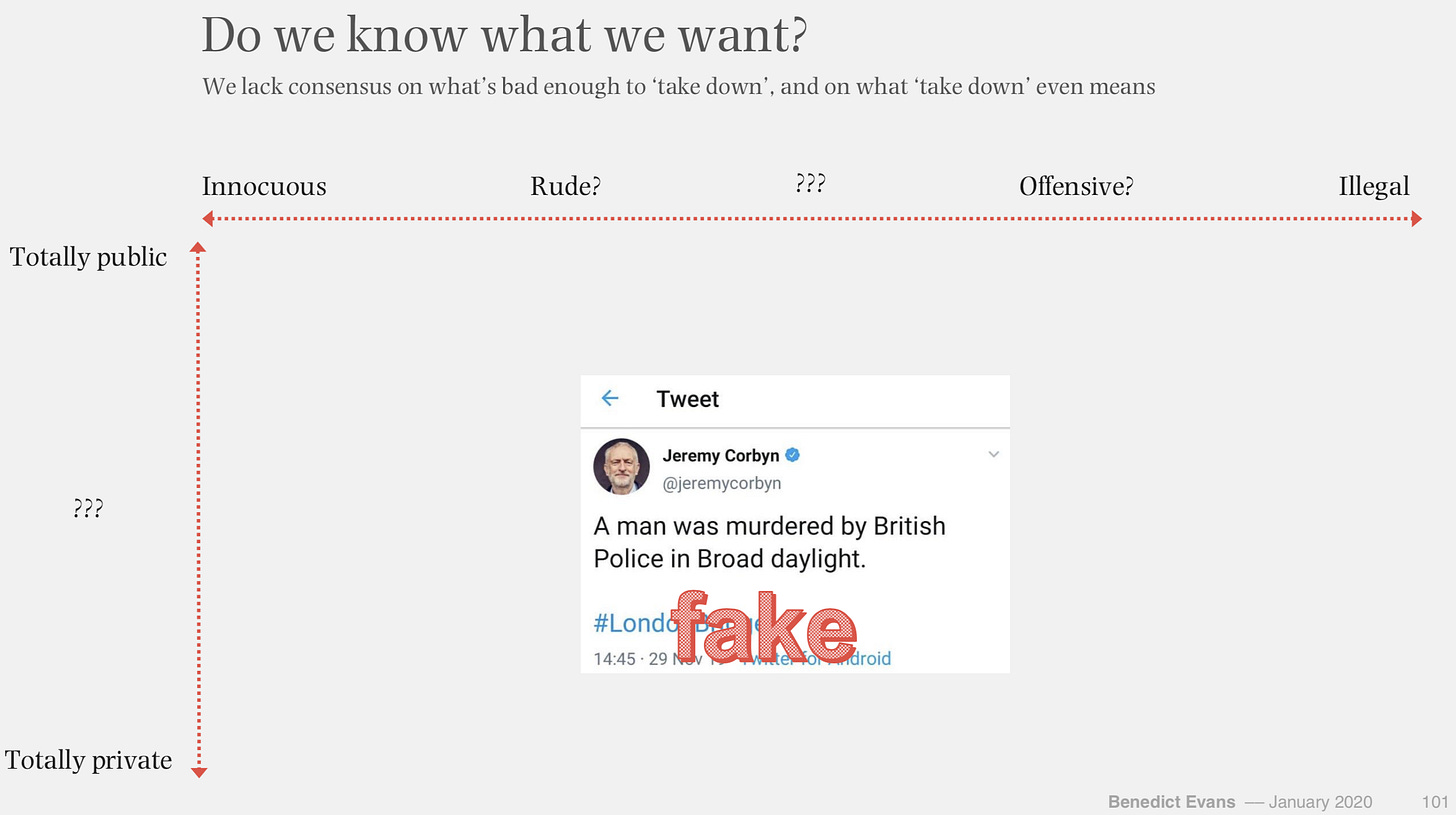 'We connected everyone, including the bad people'
---
🤓 Mass Debate with Friends
This week I did something I'd never done before. It was something I wished I did as an adolescent, but my school didn't allow it (well, 'offer it' is probably a better way of describing it). Oh yeah, I'm talking about Debate Club.
This past Wednesday, my friend Packy organized a 20+ person Debate Club night. This is one of many cool community-oriented events he is putting together for his new project, Not Boring. As he describes it, "Not Boring is a diverse [offline] community of people who are the best at what they do from 9-5, and want to develop the rest of their life beyond the office and build a more varied network." I think Not Boring will fit in well with my current goal of building community in NYC (and playing more board games 😀).
It was so fucking fun
.
As an avid informal debate enthusiast (sorry friends and loved ones…), I always thought that I would love doing Debate Club, and oh boy, did I have one hell of a night.
8 teams of 3 people squared off in 3 rounds of 30-min debates (45-mins including prep time before each round), tournament style. Each round, teams were randomly assigned to either affirm or oppose a prompt (e.g. "It's better to burn out than fade away"). Prompts ranged from serious (e.g. Voter registration, prostitution, etc.) to whimsical (e.g. "Superman would beat Batman in a fight to the death." -PS. He wouldn't).
The night flew by and we closed out the evening around 11 pm, 4+ hrs after we started. All I can say is I can't wait for the next event, Debate Club or otherwise. It's magical to be doing something fun and intellectually stimulating with people you vibe with.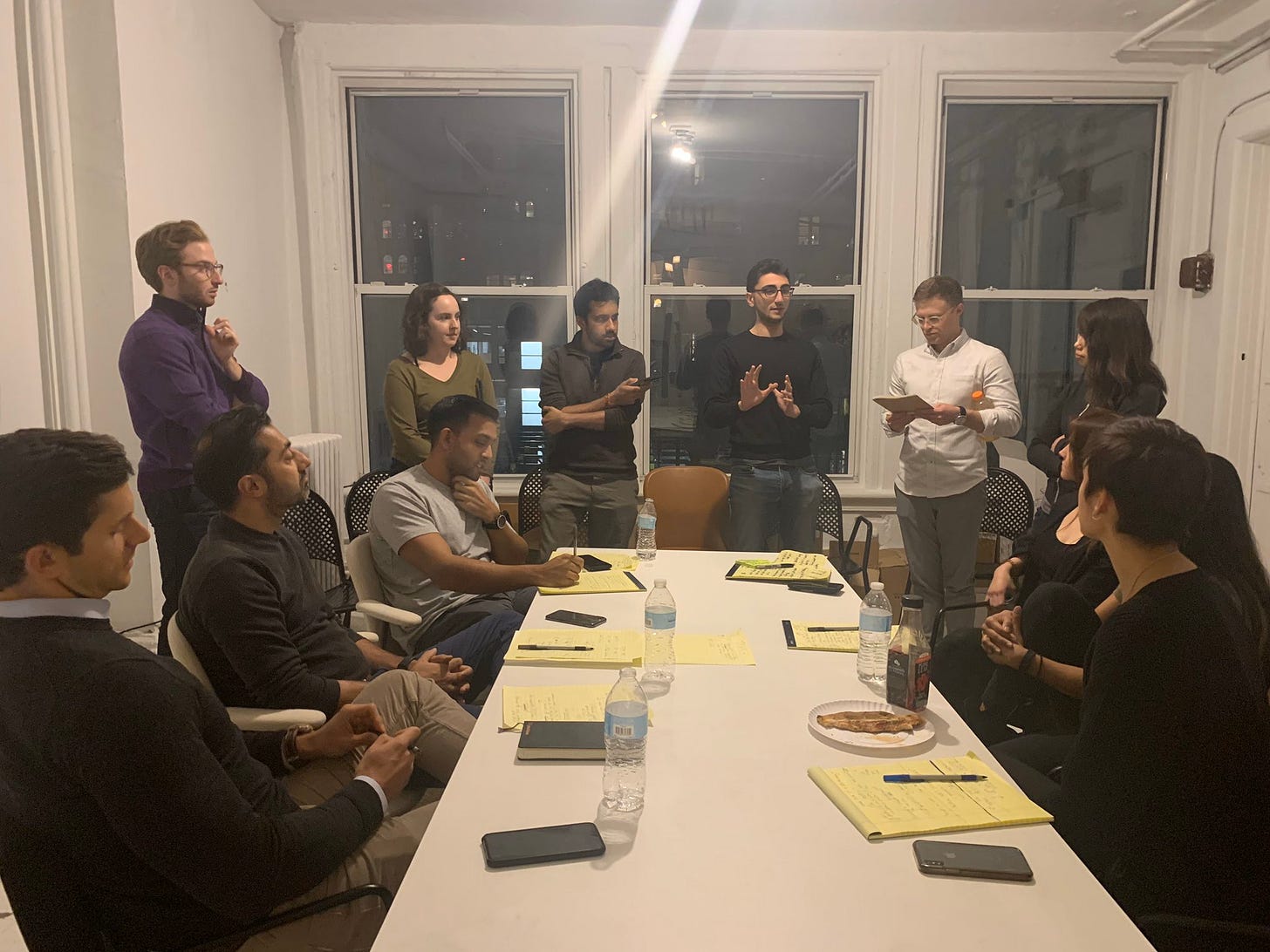 ---
🎲 Lazy Immigrants or….
I came across the photo below (Full Resolution Here) and learned a thing or two about the Legal Immigration process. While this picture is from way back in 2008, my understanding is this process has only gotten more difficult over the last decade (many of my very-well educated/skilled immigrant friends struggle with visa issues).
Many people in this country (friends, family included) are against (illegal) immigration. And while some of their concerns are valid, others are nothing more than thinly-veiled racism. When someone says "I don't have anything against immigrants, but they need to come here legally," show them this picture.
Incentives drive our behavior #microeconomics. The immediate term payoff for emigrating to this country can be huge (e.g safety, opportunity, etc.), and the stringent criteria immigrants need to pass makes getting here legally all but impossible. What is the expected outcome?
---
📷 Photo of the Week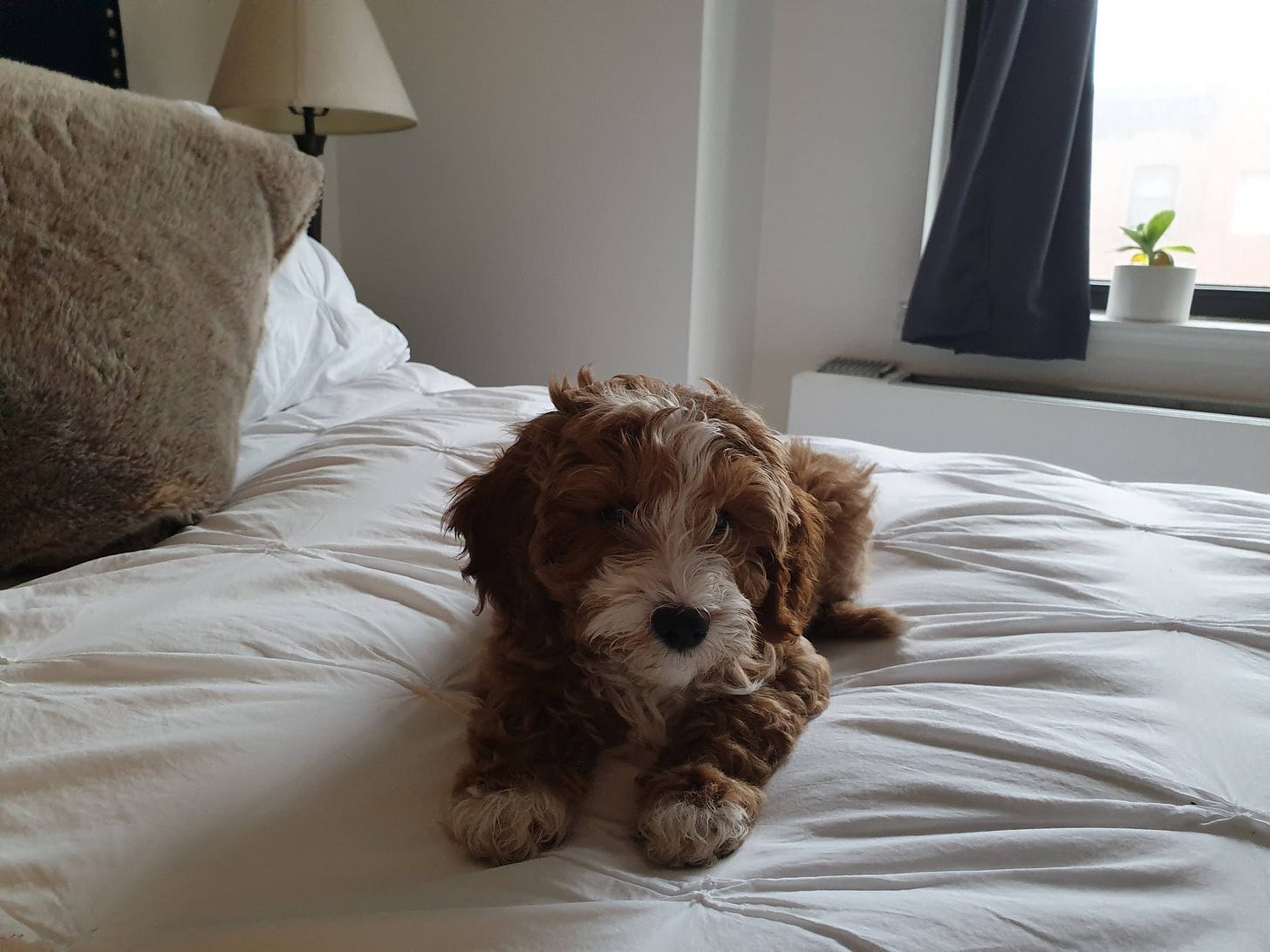 I spent Friday afternoon with this bundle of joy.
---
🏁Wow - you made it to the bottom. I hope you enjoyed it. Reach out with feedback or to just say hi!🏁

I love you,

Lobo

Ways I'd love to help you: davidlobo.me