↺Don't Look Back in Anger↻
Lobo Library #5 - 1/14/19 - a 3 min 3 second read ahead...
🗞TL;DR: Celebrating 2019 and getting (too) personal for the year ahead...
We're up and running for 2020! In the spirit of sharing my experiences/thoughts/feelings online, I want to publicly commit to my goals for the new year. My goals for the decade, however, are still pending…stay tuned…
But first, a few words on 2019. While I didn't have any formal goals, there are still many things to celebrate.
---
2019 in Review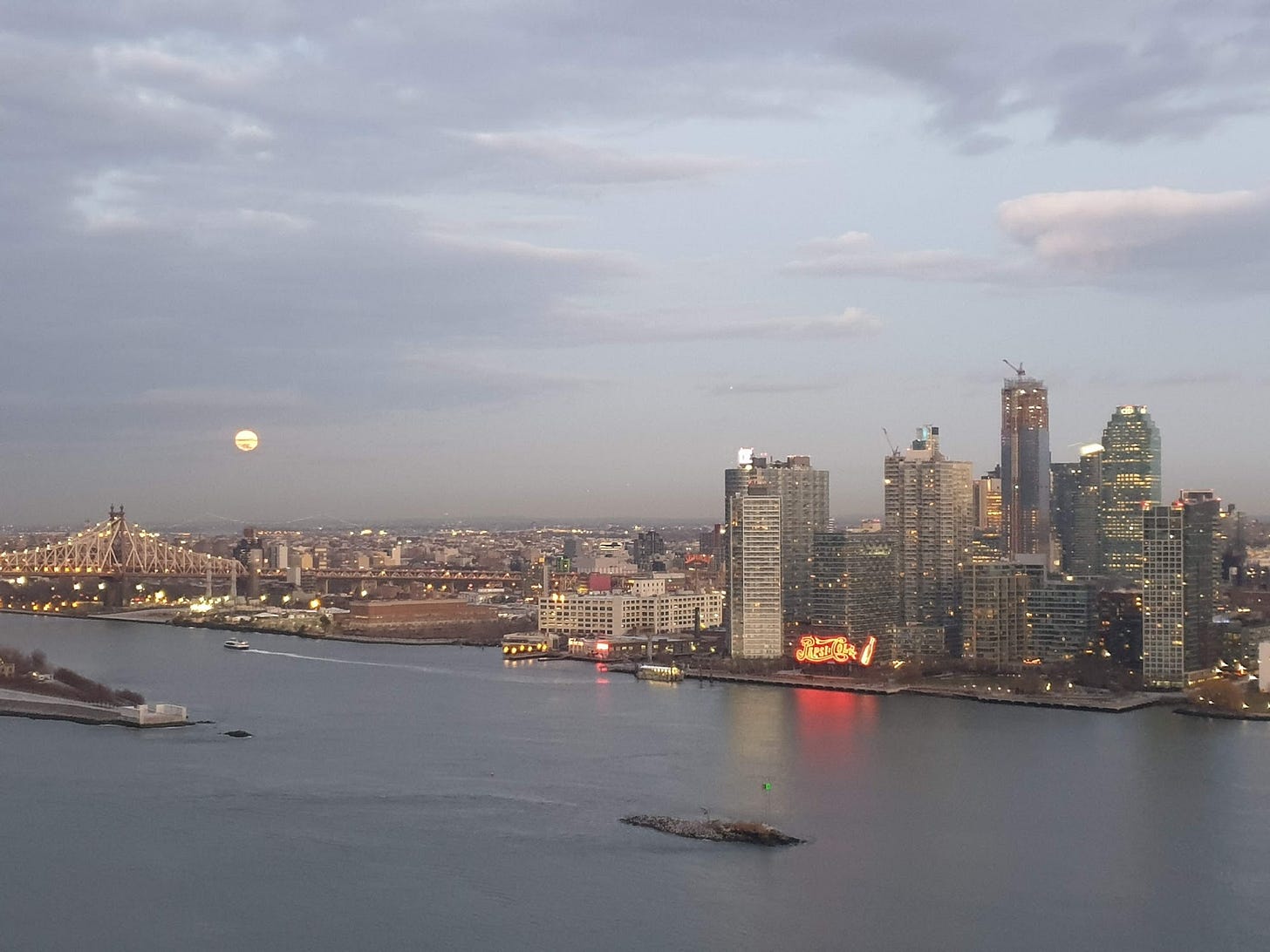 Full moon rising over Long Island City/Astoria as seen from my window.
🗽This was my first full year living in NYC. Although I did spend much of the first half traveling for work, I feel like I got a good dose of city life - and I just love it. It's been great to be so close to many family and friends (and the visitors that come through).

I had some classic NYC experiences: exploring and learning the names of different areas of the city (though I'm still fuzzy on a few things, like West Village vs. Greenwich Village), going to a few Broadway shows (Aladdin, Book of Mormon, Betrayal), moving apartments (currently living in Murray Hill), and dating (this warrants a much longer discussion).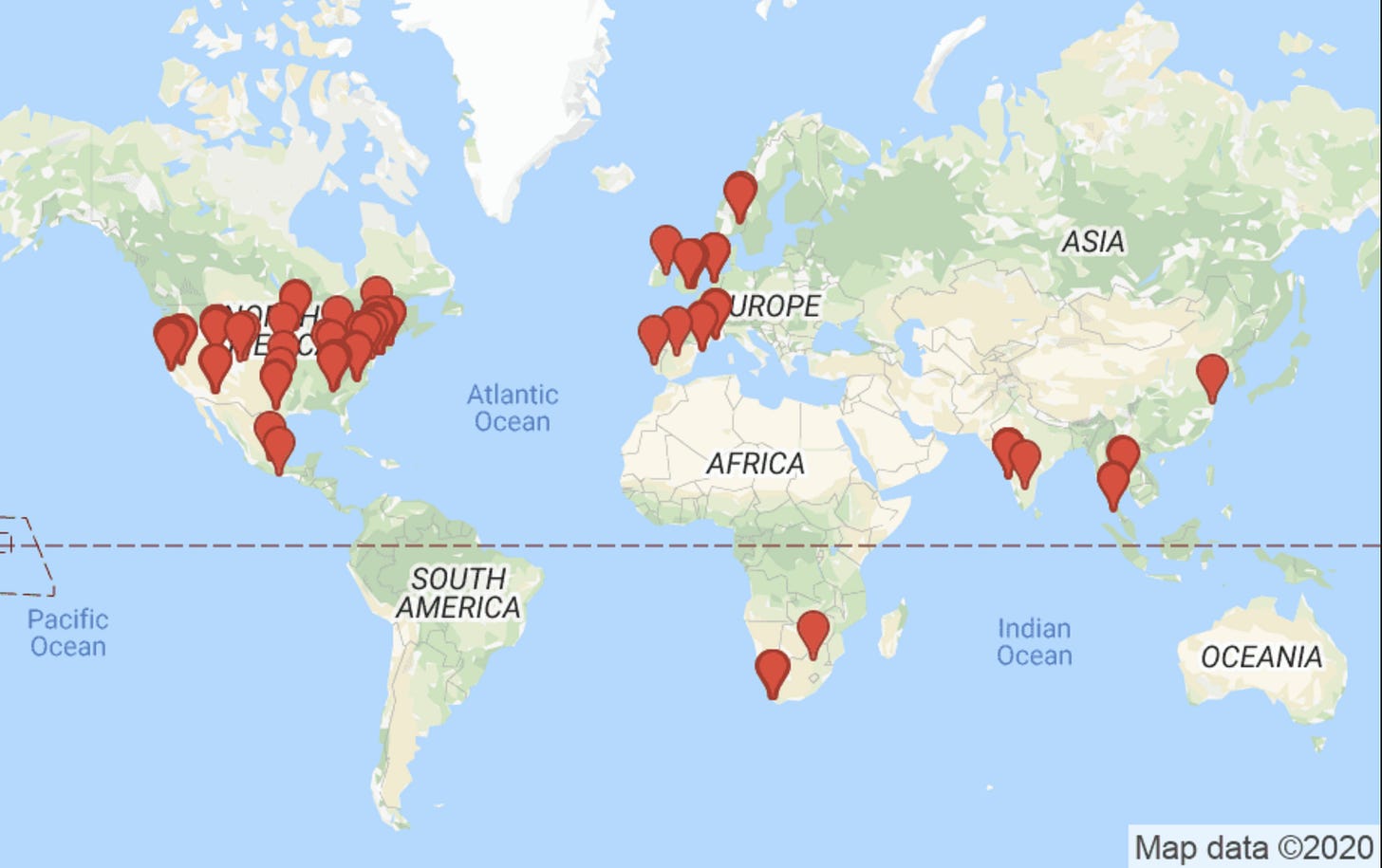 My location tracking from Google (includes layovers).
🌎I must say 2019 was a great year for traveling and reconnecting. Ignoring some less exciting work trips (e.g. Hagerstown, MD and Tulsa, OK), I went to some wonderful places (some old some new) and made some special memories with friends (some old some new).

🛠I was fortunate enough to join the On Deck Fellowship in Q4 and get immersed in a community of amazing founders in NY (and SF). This has created some promising opportunities (more on this to come)…

💪Last, but most certainly not least, I made some major life changes regarding my diet (Keto & Intermittent Fasting) while maintaining exercise. I lost ~25lbs over 4-5 months. I tend to yo-yo in weight, and so I live each day terrified (actually) of putting it back on. Let's see what 2020 has in store for me…

---
2020 Goals: The Year Ahead
2020 Mission
:
Launch a company (this has been a long time coming and shouldn't come as a surprise), putting systems/habits in place to facilitate this while achieving my other goals.
2020 Goals
:
Note: More details on the Notion Page
🤯Attitude/Spirituality

Ruthlessly prioritize: Theme of the year is FOCUS

🏃‍♂️Health

Eat/Drink Healthier

Everyday: Intermittent Fasting everyday (16:8, 10pm-2pm)

Everyday: 1 salad/day

M-F: No Red Meat

Su-Th: No Alcohol; when drinking, only drink at home or special occasions

Improve Strength & Flexibility

Wake Up Earlier

Everyday: No caffeine after 3pm

S-Th: No phone use/TV after 11pm

🕴Career

Launch a company (work on it full-time)

Raise money

Onboard 100 customers (hopefully this leads to expected profits)

Earn $36k after-tax profits (for me personally)

💕Relationship

🤓Personal

Writing

Learning

NoCode: Build a personal website using Webflow or Bubble

Travel/Activities

Executive Coaching 2x/month

🙏Friends/Community

Start or Join a Mastermind Group in NYC

Board Games 1x/month

3 Catch-up calls every Sunday morning

👨‍👩‍👧‍👦Family

Catch-up call every Sunday morning

💸Money/Wealth

Stay within daily living expenses budget
---
🏁Wow - you made it to the bottom. I hope you enjoyed. Reach out with feedback or just to say hi!🏁

I love you,

Lobo

Ways I'd love to help you: bit.ly/pushpull-lobo