🕸️Extending the Capabilities of the Web...also, Puppies🐕
Lobo Library #17 - 8/27/20 - a 3 min 56 second read ahead...
Written with ❤️ from NYC.

🗞TL;DR: Updates, launches, and more exciting news (puppies?!).
Happy Thursday!
Alas, summer is almost over. Time has truly flown by. For me, the main reason for this of course is the arrival of Arty (short for Artemis) the Whoodle (Wheaten Terrier + Poodle mix).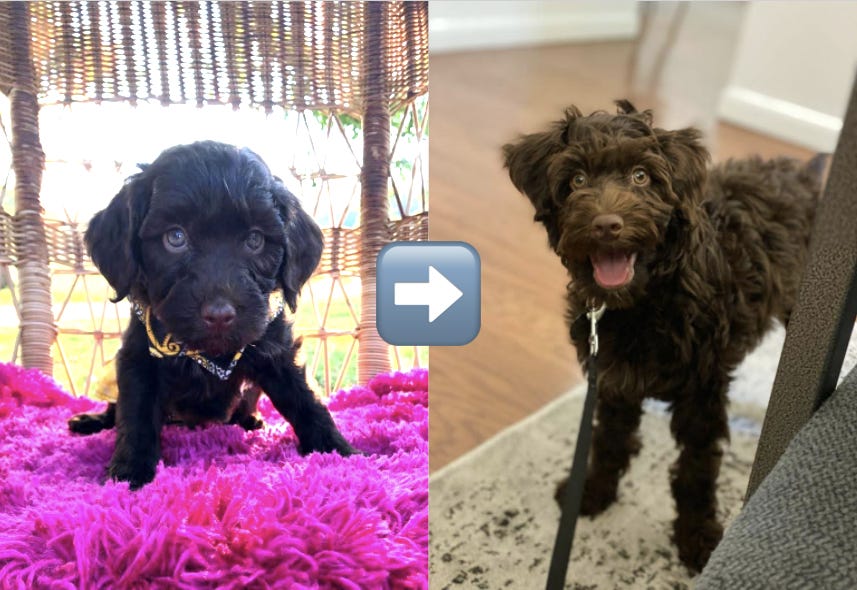 These days it feels like everything revolves around the pup. While the first month has been riddled with accidents and sleepless nights, my girlfriend and I are starting to get the hang of it.
My favorite part of the day is when Arty sees me in the morning and her little tail shakes back and forth like those old-time metal spring door stoppers.
Whoever said money can't buy happiness never bought a puppy.
If you're in NYC, come meet the puppy sometime 🐕‍🦺!
(more pictures at the end)
---
🚀 Start-Update
What I did:
🚪 Stopped working on Glinda, the advisory service for parents of kids with special needs. After a month of customer interviews (30+), my cofounder and I learned a TON about the problem of navigating special needs. It's a very intense and widespread problem. Unfortunately, for most parents, the solution we envisioned (like 'Talkspace' for special needs) was not economically feasible.

While there are other paths to solve this problem (digital products, community, etc.), my cofounder and I were unwilling to pursue them. This problem felt like one of those problems that everyone agrees is important but is very difficult to solve, like world hunger or poverty. I felt little 'founder-market' fit personally, which I thought would be necessary for continuing.

I really do hope someone tackles this successfully. In the meanwhile, you should check out my cofounder's new book on the topic.


💥 Finished the pilot cohort of OperatorMVP, a workshop series to give you the tactical skills to validate your startup idea without needing to know how to code. I really enjoyed compiling and sharing my knowledge and personal experience of building and launching 10+ products over the last few months.

I'll likely turn this workshop into an online course at some point. Here was some positive feedback from my students 🗣️:

"David managed to incorporate just the right level of theory and practice in the course, and I found the course very useful to take my idea forward. My favorite part was the session on launching the startup which included lots of practical tips, even including how-to-word emails to get the best responses."

"I'd definitely recommend signing up for the course - I learned a lot in a very short time. The sessions really kept me accountable and helped me make progress on my idea."

"David was very engaging and passionate about the subject - good communication skills and helpful in making the content tailored to the audience."

🏆 Won OnDeck's 'Build Weekend Hackathon' (judges choice + crowd favorite) for Extendo, a no-code tool to build Chrome Extensions. Over the course of a weekend, I paired up with 4 other OnDeck Fellows to flush out an idea to help people design, build, and distribute Chrome Extensions without code. You can see more information (and the demo) here:



What I'm working on:
🤓 Extendo: One of my teammates from the hackathon and I are flushing out this idea to see if this is a problem worth solving. So far we've done 30+ customer/expert interviews with people that have built or want to build a Chrome Extension. We've found that there are 3 common issues that non-technical and technical builders have:

Problem 1: Extensions are obscure and it's not clear what their capabilities are.

Problem 2: It's challenging (or impossible) to build an Extension (especially without code).

Problem 3: Distributing and promoting an Extension is also difficult.

While this might seem like a strange problem to tackle, it could be a massive opportunity - there are 3 BILLION Chrome users in the world. While we spend more time on our phones these days, work still happens on the computer. And thanks to the rise of SaaS and Cloud Platforms, that work is accessed through the browser. Chrome Extensions have the ability to personalize, customize, and greatly improve that experience.
What I need help with:
🤓 Extendo: My cofounder and I are looking for a technical cofounder who is also interested in this space and who can help us build an MVP. If you know any all-star engineers who might be a good fit, please send them my way!
---
Ain't no party like an Arty party: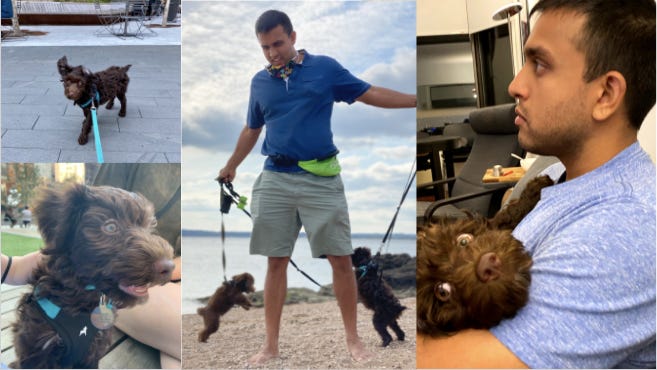 Dad-ing out real hard.
---
🏁Wow - you made it to the bottom. I hope you enjoyed it. Reach out with feedback or to just say hi!🏁

I love you,

Lobo