🦠You've just gotta fight your way through 📉
Lobo Library #12 - 3/24/20 - a 3 min 5 second read ahead...
🗞TL;DR: Reflections, adjustments, building, and creativity.
Happy Tuesday Fam,
Hello from NYC! I know the last couple of weeks have been tumultuous, but I can't seem to overcome a sense of gratitude and awe. I am grateful that I and (nearly) everyone I know is healthy and (physically) unaffected by the disease. I am grateful that I am not suffering financial hardships and that I have savings to get me through the coming months of self-employment (though the comic effect of leaving my job just before a recession is not lost).
Despite all of the inconvenience, annoyance, boredom, and isolation that this crisis has caused me and many of you, it really could be a lot worse. From this privileged standpoint, I can't help but take a step back and think, "what a time it is to be alive." I've been trying to make some connections in my brain to better understand what we are experiencing, but I'm having a difficult time.
Can we compare this to 2008? Or 2001? Well in terms of the market crashing, sure. But how about everyone worrying about their safety, making contingency plans, and being skeptical/discerning of the people around them? That sounds more like the Cold War, AIDs, or McCarthyism. We are experiencing a global historic event, one that will be portrayed in books, movies, documentaries, etc to come. It is truly an interesting time to be alive.
Of course, it is easy to say this because it assumes we all make it out unscathed, and that is not realistic. At this point, I'm guessing most of us know/know of someone who got the virus (or will get it). Lives will be affected in a substantial way.
In just a few weeks, things went from "haha beer virus" to "it's just like the flu" to "I'm not leaving my house" - real quick.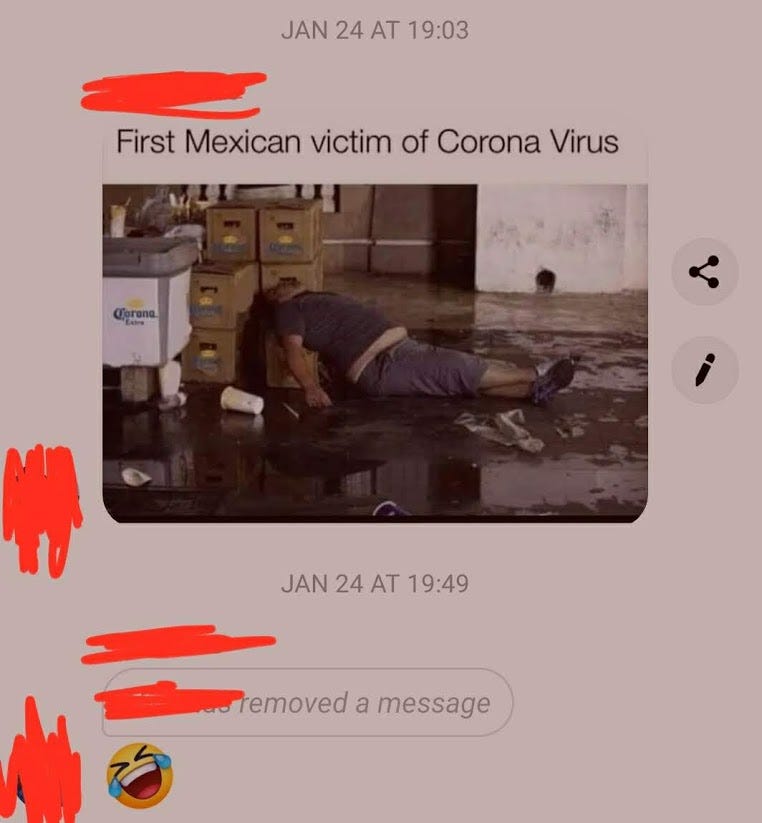 Jan 24th - the first time I heard about Corona
How do you feel about this whole thing? Let me know - it's the perfect time to catch up (email/text/WhatsApp/call/meet me).
Okay, I'm done with my reflection for now. Sorry, was that heavy? How about some eye bleach:
---
🛠Building in Public
Antler, the program I got into and wrote about last time, has been postponed for obvious reasons (they say until May, but I'm incredibly dubious). Sooooooo what am I focusing on now? Well, my immediate goal is to work with great people on a startup, side-project, or most any endeavor that is fun/profitable.
Can you think of anyone who is AWESOME and is looking for help/needs a partner? Please introduce me!
I'm also continuing my journey to learn how to use no-code tools like Webflow to build/test ideas fast. For example, over the last 2 weeks, I built the following:
I am going to continue building things in public. That means creating, shipping, sharing, and doing it all over again. I want to get/be better every day. This feels like an incredibly creative time, and I want to share it with you. If you have feedback or if you think of something/someone that might be able to help, please reach out. This incredible graphic of a quote by Ira Glass, the renowned NPR host, pretty much sums it up.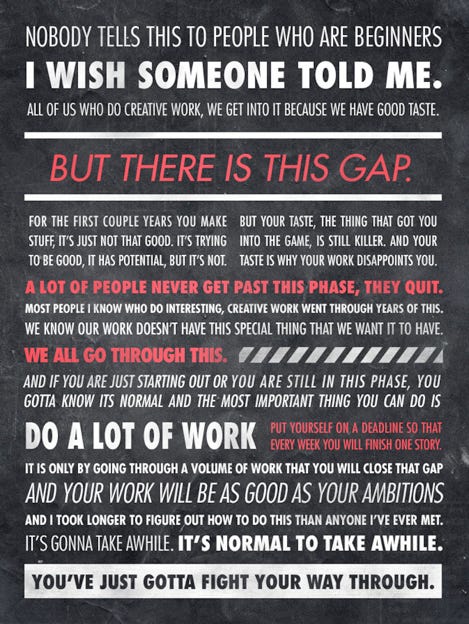 You've just gotta fight your way through.

PS. Are you doing anything creative?
---
📷Photo of the week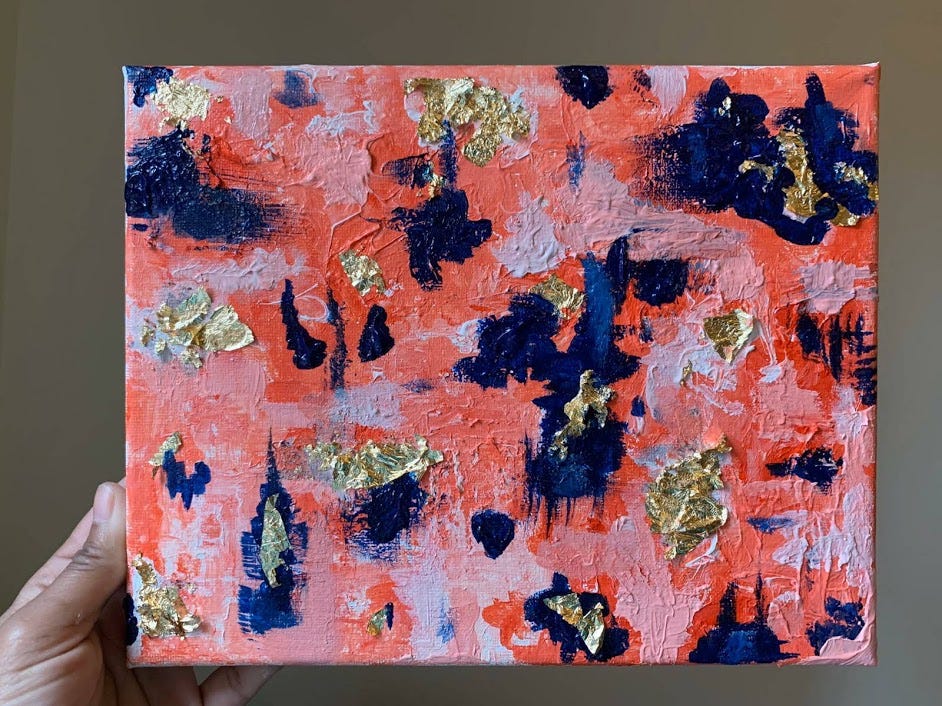 My sister has been spending a lot of time painting these days, and this is one of her newest masterpieces. She's been selling them and donating proceeds to friends who are out of work (not me 💔). Consider buying something or simply see more on Insta.
---
🏁Wow - you made it to the bottom. I hope you enjoyed it. Reach out with feedback or to just say hi!🏁

I love you,

Lobo